Welcome to my video gallery. I hope you enjoy some of the fun videos I have made here. This video gallery has a variety of offerings, See the Virtual Tour page for Video Gallery of lodging spaces.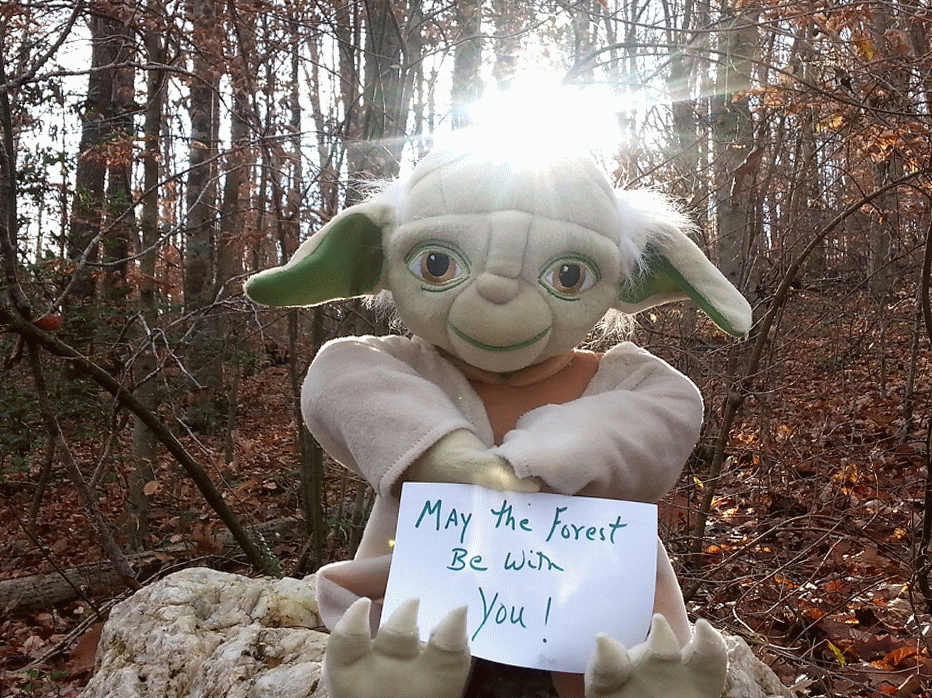 A Video created by google of a series of pictures I took of Yoda holding the sign, trying to get a halo effect. When the pictures were shown as a sequence the nature spirit is seen flying around on the left, a little green light, and flashing green highlights on the sign. May the Forest Be With YOU!
Video of Flute and natural sounds, slide show on location and description/invitation tof a Forest Therapy Day Retreat. Consider this event for your organizational retreat!
A music video slide show with original song. In the Shady Forest is a Mystery. In the Shady Forest is a Mystery, A secret treasure in a hidden realm. Many are those who have sadly lost the key and lost in thought, they don't know they are missing. In the Shady Forest is a Mystery, A secret treasure in a hidden realm. Come be still and let the forest find you and remind you to return to your senses. In the Shady Forest is a Mystery, a secret treasure in a hidden realm. Oh what a glory is your depth and radiance, another forest bird I praise you with my song.
]
Live video along enchanting run. Bathe me in your light divine halo of the night, Lantern to guide my way, Calm presence my comfort.
Bathe me in your light emerald forest, deep blue skies. Web of life revealing my connection, my place and my healing.
Bathe me in your light, flowing waters giving life, teach me your spiral way, to follow God's current each day.
Live Video of Super Moon Fire Drum Circle November 2016 video of the fire, the drummers in the dim glow and a great drumming rift. Thanks to all who came. Join us for a monthly experience of deep listening as we learn to harmonize in a collective creation of sound and fire light and forest night. A great spiritual practice and a wonderful form of Forest Therapy.
On of my favorite music videos. The song of the Forest in her Early Summer aspect as the holy maiden, and bride all bedecked for a wedding feast. This time of year the whole of Enchanting Run is bedecked with Mountain Laurel blooms, creating the perfect wedding venue. Living in the Forest I see such light and grace. The presence of the Holy Bride, returning now to take her place. The presence of the Holy Bride commands we dance and sing, to lift our hearts and call all souls to come and feast at her wedding. Her wedding gown is lacy green and lofts with every breeze. The little birds keep refuge there, my lady fair, I hear them sing. I hear them sing and in my heart I bless this new born day, the time is short. Your light is strong. I am here with you. I sing. I call.