Information-Prices Brochure
Here is information-prices concerning retreat rentals and sessions. These prices reflects the quality of this venue and the work offered here. I invite the local community to use this retreat as a resource and I love to collaborate. I can help with your need for a retreat whether it is here in person, or a stay at home retreat.
This is also a great B&B venue for tourism in this region.
On any retreat, I like to spend time and really make sure what is offered here is the best fit for you and your goals. I appreciate it when people call and we can go into what you are looking for in depth. Please feel free to call me for questions and suggestions. 540 752 5540. Or email me at earthwalkways@gmail.com
Prices depend on quantity and on the support package. Discounts are generated when you choose to get a session or some kind of support on your retreat or if you stay longer than one night.
Prices cover a 24 hour rental period. You can handle your own meals or I can offer homestyle meals.
Various support options are available including Forest Therapy, Pathwork, Breathwork, Mindfulness Meditation and wonderful combinations. Included in the full feature retreats is access to all our ammenties including library and Yoga room, steam shower, fire circle, labyrinth, Wifi. Our hot tub is undergoing repair. (coming soon sauna and float tank. Contact me if you want to be notified when available.)
Overnight Accommodations: Camping, Glamping or the Earthwalk Suite, a whole floor with private entrance in the lodge.
Basic Use: Camping (tent and access to all creek and river lands)
Weekday Tent camping ($40) includes use of Cabin Tent or your choice of smaller tent or person vision quest tents. After the first day prices are reduced to 30.00 for up to 5 days.
Weekend Rates add $10.00. Use your own tent, take off $5.00. Other camping equipment for rent if needed.
Very Private. Your choice of camping near your vehicle or more primitive camping along the Enchanting Run. Access to all the public lands and outdoor features at Earthwalk Ways.
Basic Use: Glamping (sweet 26 ft trailer w/queen bed. See video tour below.) Use of public lands along creek and river.
Weekdays first day $90, up to five days more 75 a day. Weekends add 10.00
Full Use of all ammenities: Camping and Glamping.
This includes access to steam shower, Yoga and meditation room, AV Library, Bird Feeding Station, Wifi, Massage Chair.
tent camping ( 1st night 65 thereafter up to 5 days 50)
Trailer (1st night 115 thereafter up to 5 days 105)
This is the best little campsite on the east coast for Glamping, group or primitive camping. There are some great sites primitive sites alongside Enchanting.
Clean modern 26 foot Trailer with Queen size bed. Refrigerator, Stove and Oven, Mircowave, Shower and toilet is situated by itself at the end of a little road that overlooks Enchanting Run. It is very secluded and the place I recommend for people who want do do on their own retreats, as you can do all the cooking etc and be separate from the other goings on.
B&B style room in the lodge includes a queen size bed, small refrigerator, microwave oven, hot plate, for light cooking, or you can have your food prepared.
A separate Shower/bathroom, a nice wood stove in the winter with a window to watch the logs burning. Wifi is available here.
A personal porch/deck and separate entrance.
A sitting room next door is available with a chair-bed, cot and a massage chair. This is one whole level of the lodge. Very tasteful and peaceful.
B&B prices includes use of Yoga Room, Library, Steam Shower, and all outdoor amenities.
You can do some lite cooking on your own, specialty meals can be catered, I can cook you homestyle meals, or you might enjoy going out and dining in Old Town Fredericksburg.
Personal retreats usually include meals.
Weekdays, $165 for the first day and $150 per day for up to 5 days. Weekend Rates $175 for the first day and $150 per day up to 5 days.
Meals are $15 for Breakfast and Lunch and $20 for dinner.
Let me know your ideal retreat and we will try to fit it to your budget. I like to negotiate the overall package and make sure you are happy with the value.
Discounts will apply when you are designing a supported retreat. Retreat support varies from 50 to 100.00 per section of the day, morning, afternoon and evening sessions usually last from 2 – 3 hours and are always a bargain. Discounts are often give for lodging prices as well.
Amenities
Lodge and Trailer prices include the use of Steam Shower, Yoga/Media Room/Library, Massage Chair, Winter Woodstove, 11 Circuit Labyrinth, Fire Circle area, Drums and instruments, Fountain and bird feeding area, 3000+ acres of trailless riverside greenbelt space along Enchanting Run and the Rappahannock River. You can order body work or energy work extra. Once a month we have a Reboot retreat with various offerings. Go to https://www.meetup.com/The-Art-of-Soul-Whispering/ for the various Day Retreats with overnight options that are available for small groups.
Day Retreats for individuals and organizations
Day Spa Access includes the use of all amenities and includes a Forest Therapy or Forest Bathing class. See the Day Spa Brochure_for one example of a day retreat package here, or create your own.
Supported Individual Day Spa with Lunch 75. BYOB Day Spa 60.
On your own Day Spa, ( access to land & use of bird watching station, labyrinth or other amenities) 20 donation
Group rates: Depend on the numbers but for 10 people which is a great number, I charge 50 for the day including lunch or 40 for byob…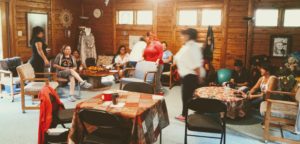 Day access for on your own vision walks, meditations or natural communion time, 10-20 donation.
I recommend people take the basic Forest Bathing Class, to get the most out of a day retreat.
Retreat Support
Pathwork and Forest Therapy Support Sessions, Fire Circles, Drumming Circles, Breathwork, Vision Quest Support, Mindfulness Practices.
Package rates are available for supported retreats offering discounts on the Rental rates for your room and quantity discounts for sessions.
Pathwork sessions are offered here and long distance (phone or video confernece). $75. for 1.5 hour session. On going work at reduced rates if needed.
Free Introductory Support Sessions
I offer free support time on my meetup, www.meetup.com/The-Art-of-Soul-Whispering/ See the ongoing meetup The Art of Soul Whispering. You can also call and set up a time to talk at your convenience. I can help you understand this work and provide an free exploratory session that allow you to assess me and the approach and allows me to see if this is a good fit. Quality is very important to me in all my offerings, from the retreat spaces to the work I offer and I want to make sure it is a good match before you get here. For Supported Retreats I also offer free consulting time for retreat goals.
Prices Negotiable
Due to the many options offered no matter what your price range, I can offer support for an inner retreat within your own space or an Earthwalk Retreat get-away.
Because I do try to offer deep heartfelt support, excellent service, and a wonderful location and comfortable spaces, I always appreciate both a revue on my guest book or facebook page and a gratuity if this experience exceeded your expectations. This is always appreciated and every retreat is held in deepest respect, attunement, mutual collaboration blessing for each person who comes here.
You can use this Paypal button to put down your deposit from your account or a credit card. Youu can also complete payment through this channel. I will also accept checks for the balance on arrival.
This is a Paypal button and you can transfer funds to my Paypal account through your credit cards or your own Paypal account. Thank you very much for keeping the wheel turning. May all our economies be blessed and abundant and may all we give return to us a hundred fold.